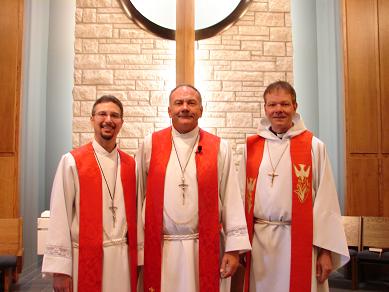 Click on the link below to listen to the Worship Service. It is recommended that you have a broadband connection (includes cable, DSL, and/or T-1) to download the audio file.
The corresponding Order of Worship is provided for you, in order to follow along, just under the Worship Service link.
If you are on a dial-up connection and would like to receive a copy of the service or sermon on tape or on a CD, please e-mail us at info@goodshepherdlincoln.org, and we will be happy to fulfill your request.
WE WOULD ALSO LIKE TO HEAR YOUR COMMENTS ABOUT OUR SERVICES. SPECIFICALLY,
(1) HOW OFTEN DO YOU CHECK IN AND LISTEN TO OUR SERVICES?
(2) ARE YOU A MEMBER OF A LUTHERAN CHURCH? (3) WHERE ARE YOU FROM?
(4) HOW DID YOU FIND OUT ABOUT OUR SITE? AND
(5) WHAT CAN WE DO TO ASSIST YOU IN THE FUTURE?
PLEASE TAKE A FEW MINUTES AND EMAIL YOUR COMMENTS TO corby@goodshepherdlincoln.org
Please e-mail Corby at corby@goodshepherdlincoln.org if you are experiencing any difficulty downloading the sermons from our Website.
Be sure to check out the News & Notes.
November 18, 2012 "Where to Turn" Matthew 9:18-16 - Pastor Lance Berndt

December 31, 2010 "Stay Dressed" Luke 12:35 - 40 - Pastor Lance Berndt

November 18, 2010 Thanksgiving Worship for Shut-in Members "O Give Thanks" Psalm 107:1 - Pastor Clint K Poppe
June 26, 2010 - Adam Moline Ordination to the Ministry - "A Ministry of Blood" Hebrews 9:11-22 - Pastor Clint K Poppe

June 23, 2010 "Receive Adoption as Sons" Galatians 3:23 - 4:7 - Pastor Lance Berndt

May 19, 2010 Worship with Kindergarten & 8th Grade Graduation "Walking in the Truth" 3 John 4 - Pastor Clint K Poppe
April 2, 2010 Good Friday "Tenebrae" Service "But Deliver Us From Evil" Luke 23:44-46 - Pastor Lance Berndt
March 30, 2010 "Jesus, the God-man Came to Save This Unbelieving World" John 12:23-50 - Guest Preacher Rev. Timothy Brisbois
January 8, 2010 Pre-Lent Preaching Workshop - Session 1 "Historical Flyby to the Eve of Reformation" - Pastor Brent Kuhlman, Trinity Lutheran Church, Murdock, NE
January 8, 2010 Pre-Lent Preaching Workshop - Session 2 (Part I) "Dr. Luther and Reformational Insights" - Pastor Brent Kuhlman
January 8, 2010 Pre-Lent Preaching Workshop - Session 2 (Part II) "Dr. Luther and Reformational Insights" - Pastor Brent Kuhlman
November 15, 2009 "Access, Consciences and Stirring Up" Hebrews 10:11-25 - Rev. Brent Kuhlman, guest preacher
August 19, 2009 "As for Me and My House, We Will Serve the Lord" Joshua 24:15b-17 - Pastor Lance Berndt

July 26, 2009 "Never Again" - Genesis 9:8-17 - Pastor Clint K. Poppe

July 25, 2009 Mommens-Schlamann wedding "True Riches" Proverbs 19:14 - Pastor Clint K Poppe

July 22, 2009 "My Father and Your Father" John 20:1-2, 10-18 - Pastor Lance Berndt

July 19, 2009 "Hungry?" Mark 6:30-44 - Pastor Lance Berndt

July 15, 2009 "The King Keeps His Word" Mark 6:14-20 - Pastor Lance Berndt

July 12, 2009 "God's Special Doctrine of Comfort" Ephesians 1:3-14 - Pastor Clint K Poppe

July 8, 2009 "What to Expect From Your Pastor" Ezekiel 2:1-5 - Pastor Clint K Poppe

July 5, 2009 "The Gift of Humility" 2 Corinthians 12:1-10 - Pastor Clint K. Poppe

July 1, 2009 "Take You By the Hand" Mark 5:21-43 - Pastor Lance Berndt

June 28, 2009 - "Faithfulness" - Lamentations 3:22-33 - Pastor Clint K. Poppe

June 24, 2009 "Prophet of the Most High" Luke 1:57-80 - Pastor Lance Berndt

June 21, 2009 "Great Calm" Mark 4:35-41 - Pastor Lance Berndt

June 17, 2009 "Life in a Tent" II Corinthians 5:1-17 - Pastor Clint K Poppe

June 14, 2009 "A Theology of Trees" Ezekiel 17:22-24 - Pastor Clint K Poppe

June 10, 2009 "The Trinity in Action" Acts 2:22-36 - Pastor Lance Berndt

June 7, 2009 "Holy, Holy, Holy" Isaiah 6:1-8 - Pastor Clint K Poppe

June 3, 2009 "Calling on the Name of the Lord" Acts 2:1-21 - Pastor Clint K Poppe