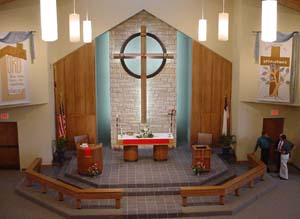 Lutheran worship puts the focus squarely on Jesus Christ, who is present for us and with us through His Word and Sacraments. Lutheran worship is, therefore, Christ-centered, not man-centered.
How a church conducts its worship is a reflection of what it believes, teaches and confesses.
For more "What About Lutheran Worship" please click on the picture.
We have many opportunities to worship...
Divine Worship Services are held at 8:00 am and 10:30 am each Sunday.
We celebrate Holy Communion at the 8:00 am service every 1st and 3rd Sunday and at the 10:30 am service every 2nd and 4th Sunday. Holy Communion is celebrated at both services on the 5th Sunday of months with five Sundays. Please click on the link for our Holy Communion Statement.

Wednesday Evening Worship Services are held each Wednesday at 6:30pm. Holy Communion will celebrated on one Wednesday evening each month. Call the church office for details. Pastor Berndt leads a Bible study following the service from 7:20pm - 8:30pm. Please join us for this opportunity to study God's Word.

Sunday Worship Services are aired on KFOR 1240 AM every Sunday at 10:30 am.
You may also listen to our worship services online. Please click the "Sermons" button on our homepage.