Good Shepherd Lutheran - Lincoln, NE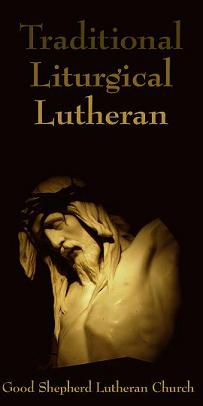 Welcome in the name of our risen Lord and Savior, Jesus Christ!
At Good Shepherd, we are committed to preaching and teaching the life-giving and life-changing Gospel of Jesus in its truth and purity. In all of our activities, the heart and core is always the Good Shepherd, who laid down His life to save lost sheep like you and me. To Him alone be the glory!
Thank you for visiting our web site. For information about our church, our beliefs, and answers to frequently asked questions, select the "ABOUT US" section. You'll also find information about our helpful staff, our weekly worship schedule, and a map to our location there. But that's not all we have to offer!
In the "GET INVOLVED" section, you will find information about upcoming events, ministries offered, and information about volunteer opportunities at the church and within the surrounding community.
Our "RESOURCES" section will show you additional religious resources, educational materials, and publications we value.
If you have any questions, please don't hesitate to ask. We're just a click away and we're always here to serve you.

---
School News:
DO YOU HAVE A CHILD READY TO START KINDERGARTEN? Many families from our congregation experience abundant returns by picking a Lutheran school for their children. Good Shepherd Lutheran School and Preschool provides high-quality education in a setting where faith is fostered each and every day. One family whose children attend our school says, "There is comfort in knowing our kids have a quality education right alongside of their relationship with Jesus Christ. They hear and learn the same morals and faith at school, which they are also taught at home and in church." If you, or someone you know has a child entering kindergarten next year or is looking to change their school, consider Good Shepherd Lutheran School. Come see why children have more opportunities to excel academically, personally and spiritually with us. Find our brochure at the information center or go to goodshepherdlincoln.org/schools for more information.
To admissions information for any other grades please feel free to contact the school office at 402.423.7677 or talk to Mrs. Linda Ahrens.
Download the Good Shepherd Lutheran School brochure here!
---
Church News:

A BENEFIT FOR SUSAN MARTIN will be held at the Good Shepherd fellowship hall on Thurs., May 23rd from 5:30 - 7:30 pm. The "Waffleman" will be here and will provide you with supper on this evening. A freewill offering will be received to assist with the medical expenses for Susan's cancer treatment. Thrivent Financial for Lutherans will supplement the funds raised up to $2000. Come and enjoy the meal, the opportunity to meet new people and the chance to help someone.
JR HIGH - Higher Things Confirmation Retreat MIDWEEK STUDENTS RETREAT - SAVE THE DATES:All midweek students are invited to the Camp Comeca Retreat in Cozad on May 28-30. The theme of this retreat will be DAILY PRAYERS. The cost will be $90 per person which covers two overnights, 6 meals, and use of the facilities (which includes a pool, gym, a lake with canoes & paddle boats, rock-climbing wall, tennis and volleyball courts, a zip-line, and other activities). For further information, please check at the information center or talk to one of our pastors.
VBS - "HERE I STAND!" is the theme of Vacation Bible School this year. It will be held the week of June 3-7 beginning at 9 am. On Monday the students are asked to come about 8:45 am to allow time to locate classrooms, be there for attendance, come to the opening session, etc. This week will take us through the life of Martin Luther and show how the Reformation came about. Luther made some discoveries as he read God's Word which led him to question the doctrine taught by the church of his day. Thank you to all who have volunteered to help with VBS so far; we have all the teaching positions filled. We do need lots of volunteer helpers to support these teachers and leaders in the classroom and in crafts and in the kitchen. If you are interested in being involved in this exciting week, please contact Patty Stradley at (402) 525-8981 or Kim Bock at (402) 421-1729. Check out the sign-up sheets in the narthex to donate snacks and craft items needed for the week. Registration forms are located on the table in the narthex also. It's not too early to sign up your students. This will help us to prepare for all of the students. Please download and complete the 2013 VBS Registration form by clicking here. Then print the form and return it to the registration box in narthex or mail to 3825 Wildbriar Lane by May 17th, 2013.

---
Posted on 05/15/2013

Posted on 05/06/2013

Stewardship - What God's Word says it is and what it is not.
From: Dale Borneman – Office of Stewardship

Posted on 05/06/2013
If you need to find information form a News & Notes that is more than three weeks old look here!
---


Good Shepherd Lutheran Church
Church Address: • Good Shepherd Lutheran Church
3825 Wildbriar Lane • Lincoln, Nebraska 68516-4502
E-mail: Info@goodshepherdlincoln.org

Please read our Privacy Policy.

Copyright © 2010