Good Shepherd Lutheran Church & School - Lincoln, NE

Welcome in the name of our risen Lord and Savior, Jesus Christ!
At Good Shepherd, we are committed to preaching and teaching the life-giving and life-changing Gospel of Jesus in its truth and purity. In all of our activities, the heart and core is always the Good Shepherd, who laid down His life to save lost sheep like you and me. To Him alone be the glory!
We have many opportunities to worship...
Divine Worship Services are held at 8:00 am and 10:30 am each Sunday.
We celebrate Holy Communion at the 8:00 am service every 1st and 3rd Sunday and at the 10:30 am service every 2nd and 4th Sunday. Holy Communion is celebrated at both services on the 5th Sunday of months with five Sundays. Please click on the link for our Holy Communion Statement.
Wednesday Evening Worship Services are held each Wednesday at 6:30pm. Holy Communion will celebrated on one Wednesday evening each month. Call the church office for details. Pastor Berndt leads a Bible study following the service from 7:20pm - 8:30pm. Please join us for this opportunity to study God's Word.
Sunday Worship Services are aired on KFOR 1240 AM every Sunday at 10:30 am.
You may also listen to our worship services online. Please click the "Sermons" button on our homepage.
If you have any questions, please don't hesitate to ask. We're just a click away and we're always here to serve you.
Church Phone : (402) 423-7639 School Phone: (402) 423-7677
---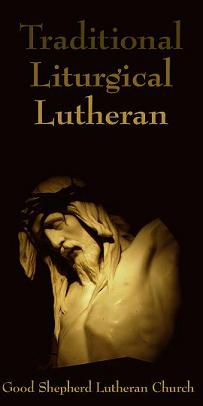 Church News:
ADVENT WEDNESDAY SCHEDULE December 4th-18th:

5 pm Advent meals

5:30 pm Midweek classes for grades 5-8

6:30 pm First Advent midweek service

7:30 pm Bible study in the fellowship hall and Adult Choir in the balcony


THE SUNDAY SCHOOL CHRISTMAS PROGRAM will be on Saturday, Dec. 7th from 9-11 am for students in grades 1-7. Mark your calendar for the Sunday School Christmas program on Sunday, Dec. 15th at 4 pm.

THE INCARNATION OF OUR LORD is the title of a new short-term (about 5-6 weeks) Bible study on Sunday mornings beginning on December 1st. What does this term mean? Why is it important? You should have a better appreciation of the account of the birth of Jesus when you learn the answer to these questions. It is appropriate to dig into the Word of God at this Christmas season and learn about what the incarnation of Jesus means for you and me. Everyone is welcome in room 109 in the northeast corner of the main level. Pastor Berndt will lead this study.

CHRISTMAS CAROLING will begin with meeting at the church to pool rides and head for Homestead Care Center to sing for the residents there. Then we will divide into groups and take God's Word through Christmas carols to the shut-in members of Good Shepherd. It's one way we care for one another at Good Shepherd. Meet at the church on Saturday,
Dec. 21st at 10 am. More details will come in the next few weeks. Please mark your calendars for this family-friendly opportunity.

Click Here for Vicar Dunlop's Roast & Farewell | Click Here for Celebration of the pastors and roast

Click Here for Siebert ordination and installation

---
School News:
If you would be interested in helping at Good Shepherd Lutheran School by listening to students read, helping with math, etc., please contact Linda Ahrens at (402) 423-7677. Please leave a message if there is no answer and she will return your call.
Download the Good Shepherd Lutheran School brochure here!

LUTHERAN SCHOOL & PRESCHOOLCHRISTMAS PROGRAM will be on Saturday, Dec. 14th at 3 pm. This event will be different than the Sunday School program so everyone is invited to attend both.
---
GS Youth Group grades 8-12 (College & Young Adults welcome too!):
Youth Leaders - Marc Huff 402-890-9752 | Beth Huff 402-304-3352 | Andrew Wood 402-369-2691 | Jeana Wood 402-366-1836
GS Youth on Facebook - https://www.facebook.com/groups/GSYLincoln
Sunday Bible Study & Fellowship: We meet upstairs in the youth room from 9:30-10:15. This year we are adding the 8th graders to the Youth Sunday Bible Study time. This study is open to anyone grades 8-12, college, or even young adults. We are currently looking at the book Broken: 7 "Christian" Rules That Every Christian Ought to Break as Often as Possible by LCMS Pastor Jonathan Fisk. We have some good discussion with the topics covered and so far the youth have been responding to it well.
The 2nd Sunday of every month is meeting Sunday - for planning events & informing youth of upcoming events. We set this time aside each month but we do still make updates & decisions on the fly so attending on Sunday as much as possible will keep you the most informed.
Sunday Rolls served by the Youth - organized by Jeana Wood, the youth serve rolls between services most every Sunday. Families are asked to provide the rolls, bit the youth group does try to keep a small back up or reserve in freezer in the kitchen to help supplement what the families bring. If you have any concerns with providing the rolls or not being able to make it the Sunday you're scheduled please feel free to contact Jeana and she'll work something out with you.
GOOD SHEPHERD YOUTH are offering childcare for Christmas shopping on Sat., Dec. 7th from 12:30 pm - 5 pm so that parents can have a child-free afternoon to shop! Suggested donation for this event is $5 per child with a max of $15 per family.

YOUTH CHRISTMAS PARTY will be following the childcare on Sat. Dec. 7th from 5 - 8 pm. We will order pizza for supper and have a fun holiday hangout with a gift exchange. For the gift exchange the gift should be no more that $10.
HIGHER THINGS "CRUCIFIED" at Concordia University in Mequon, WI from July 7-13, 2013. (Pre-registration is due by Dec. 25th, 2013 with the $150 deposit.) Crucified. We preach Christ crucified. "I desire to know nothing amongst you other than Christ and Him crucified." The words of the cross are Foolishness to those perishing but, to us being saved, they are the power and wisdom of God. Join us this summer, as we receive all the gifts that come from the Lord, who was crucified for us under Pontius Pilate and raised from the dead on the third day. His crucifixion is our faith. His crucifixion is our death. His resurrection is our justification by faith alone. Our Good Shepherd youth are planning to attend the Higher Things Conference again this next summer and would love to have you join us! Anyone that is confirmed before the conference date can attend. College age and young adults are welcome as well. We would like to be able to send a check for the registration in before the end of December to ensure that our group gets the lowest rate and has a spot before the conference starts filling up. We will do a few fundraising events to help offset the cost and those who participate in these events will be the ones to benefit from the funds raised. If you have any questions we will be having an informational meeting in November. If you have questions before then or think you will need financial assistance, please contact Marc/Beth Huff at (402) 890-9752 or marchuff@gmail.com or Andrew/Jena Wood at (402) 369-2691 or wood.andrew.d@gmail.com. Don't let money be the reason you miss out on this event. We'd love to have you join us!

Download the registration form here!
---
If you need to find information form a News & Notes that is more than three weeks old look here!

Stewardship - What God's Word says it is and what it is not.
From: Dale Borneman – Office of Stewardship
---
Thank you for visiting our web site. For information about our church, our beliefs, and answers to frequently asked questions, select the "ABOUT US" section. You'll also find information about our helpful staff, our weekly worship schedule, and a map to our location there. But that's not all we have to offer!
In the "GET INVOLVED" section, you will find information about upcoming events, ministries offered, and information about volunteer opportunities at the church and within the surrounding community.
Our "RESOURCES" section will show you additional religious resources, educational materials, and publications we value.
---


Good Shepherd Lutheran Church
Church Address: • Good Shepherd Lutheran Church
3825 Wildbriar Lane • Lincoln, Nebraska 68516-4502
E-mail: Info@goodshepherdlincoln.org

Please read our Privacy Policy.

Copyright © 2010